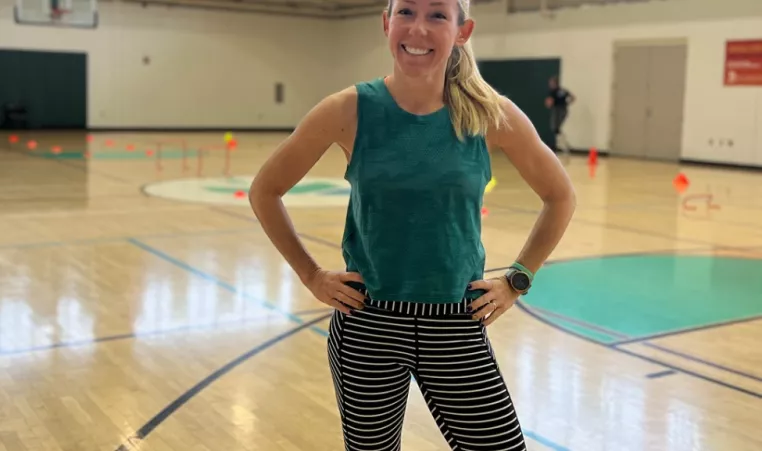 When the 127th running of the Boston Marathon takes off on Monday, a group of YMCA members and staff will be cheering from Kentucky for one of our own: Liz Combs, a YMCA member-turned-group exercise instructor of sixteen years. It'll be her second experience in Boston, but just one of many achievements for the UK professor and Director of the Accelerated Coordinated Program in Dietetics, mom, wife, friend, swim coach, and endurance athlete.

Her role teaching at the C.M. Gatton Beaumont YMCA is a perfect blend of her own interests, passion, and gifts as a teacher. "When I joined the Y, it changed my life. I fell in love with group exercise classes and started to cultivate a healthier relationship with movement. I started to realize that movement could be joyful and fun." But it isn't just movement of the body that Liz loves - it is the component of mind and spirit, too. She talks candidly about the inclusive and empowering environment and the theme of belonging is never far from her mind. "I found a sense of community with other members, which has continued all these years. When I think about what keeps me excited me about the Y, it's all about cultivating a continued sense of community through joyful movement. I appreciate the fact that the YMCA is accessible to many ages, abilities, and interests. It is empowering to walk into a space where so many people are able to pursue activities they are passionate about. It is such a diverse group, which is inspiring!"
It seems Liz isn't the only one being inspired. Whether leading a packed group exercise class or running or biking as an endurance athlete, she is leaving an impression on others, too. For the recent employee appreciation events, a compliment card at the Y for Liz read: "WOW!! Marathons, PhD, awesome instructor who always pushes her classes to work harder." It is such a great summary of a woman who balances many commitments but brings her community along with her.
We hope that as she brings her joyful movement, months of training, and favorite running shoes to Boston next week, Liz feels the support of her Y community at the starting line, the finish line, and every mile between.


Do you know a YMCA team member who deserves the spotlight? We'd love to hear from you! Get in touch through email and the marketing team will follow up!